The Top 10 Incredibly Awesome Adventures For
ADRENALINE

JUNKIES



If you love adventure and you love to travel, prepare to add these 10 incredible trips to your adrenaline junkie bucket list.

Whether you want to experience nature in a truly exhilarating way or you want to take on some of the scariest challenges on the planet – these incredible holidays for adrenaline junkies are once-in-a-lifetime experiences.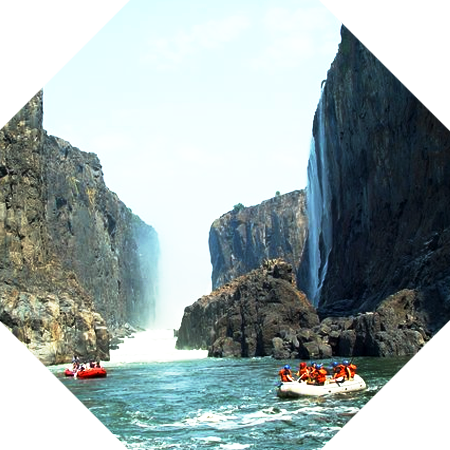 White Water Rafting
at Victoria Falls
For an adventure that's unforgettable, white water rafting at Victoria Falls is an incredible experience. Victoria Falls lie on the Zambian and Zimbabwean border; it's a UNESCO world heritage site and one of CNNs 7 wonders of the natural world. With rapids like 'The Terminator', 'Stairway to Heaven' and 'Judgement Day', prepare for an adrenaline rush like you've never experienced as you fly down some of the best rapids in the world.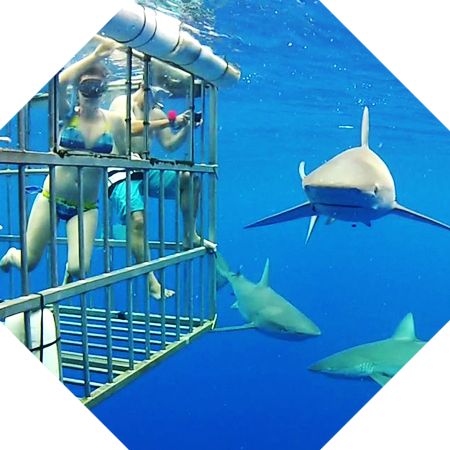 Dive With Great White Sharks in Australia
If you're looking for an experience like no other, imagine being in a metal cage next to some of nature's fiercest predators. See these incredible creatures in their natural environment on Australia's coasts and get up close and personal with a shark cage diving experience. With incredible natural beauty and some of the world's most amazing reefs, add some excitement to your visit to Australia as you look into the eyes of a great white shark.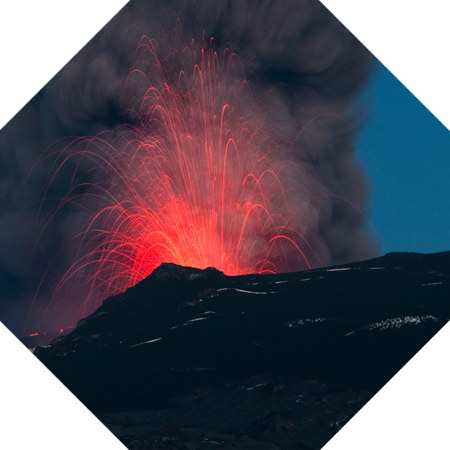 Explore an Active Volcano in Iceland
Visit some of the deadliest volcanoes in the world in Iceland for a once-in-a-lifetime experience. Iceland has about 130 active and inactive volcanoes with 30 volcanic systems running through the island, with many eruptions possible. Take a guided tour and explore some of its most famous volcanoes like Eyjafjallajökull (which caused major diruption to European flights in 2010). Or visit Þríhnúkagígur – the only volcano in the world you can actually go inside of.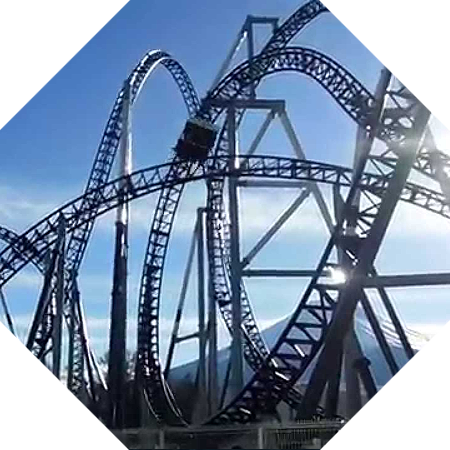 Ride the World's Steepest Rollercoaster in Japan
If rollercoasters are your favourite adrenaline rush, make sure Japan is your next destination. Fuji – Q Highland, in Fujiyoshida Japan, has over 40 incredible rides, including the world's steepest rollercoaster. The Takabisha has the steepest drop in the world – 121 degrees – and is a terrifying experience designed for the ultimate thrill.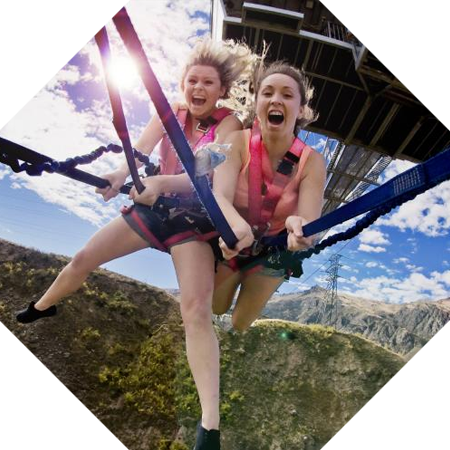 Swing Over a Canyon in Queensland, New Zealand
For an incredible adrenaline rush, the canyon swing over the Shotover river in New Zealand sends you swinging across a giant valley in beautiful New Zealand. Launch from a cliff at 109m then swing 200m with a 60m vertical freefall down the rocky cliff face. One of the world's highest cliff jumps, with a rope to hold onto, you'll feel the ultimate thrill!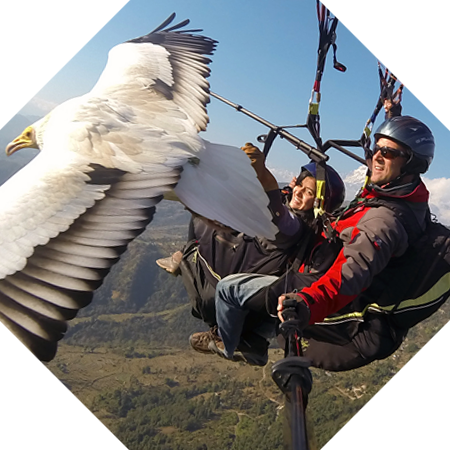 Go Parahawking
in Nepal
Paragliding is an old favourite of adrenaline junkies but take it to a whole new level with Parahawking in Nepal. Parahawking is a paragliding experience with a trained bird of prey as your guide through the skies. Experience the incredible thrill of paragliding from a whole new perspective as you take to the skies with an Egyptian vulture.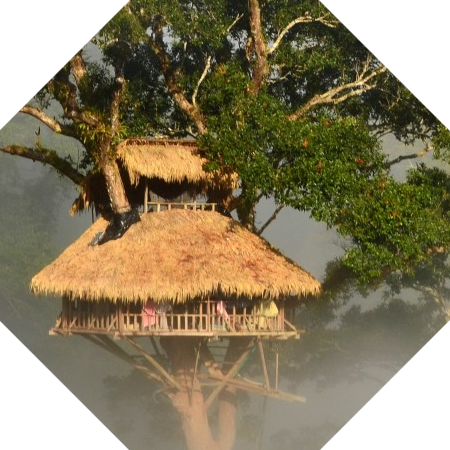 Stay in the World's Highest Tree Houses in Laos
Wake up in one of the highest tree houses in the world surrounded by gibbons at the gibbon experience in Laos. For your adrenaline rush, you'll be pleased to know that travelling by zipline is the only way to get to your hotel room. Sleep above 100ft high in the air in one of these incredible tree houses for a morning view like nothing else.
Skydiving in Hawaii
Skydiving is an amazing experience; jumping out of a plane at 12,000 feet is the ultimate thrill. If you're looking for a truly unique skydiving experience, there's nowhere better than Hawaii. Visit the world's most beautiful dropzone and take in the island paradise from thousands of feet in the air. Experience the exhilarating free fall and the adrenaline rush of skydiving in an incredibly beautiful part of the world.
Go Mountain Biking
in Morocco
The Atlas mountains in Morroco have some of the world's most amazing mountain biking trails. With experiences for any level of mountain biking skill, the incredible scenery and adrenaline-filled trails make mountain biking in Morocco a thrillseeker's dream holiday.
Do the World's Highest
Bungee Jump in China
For an adrenaline rush that's not for the faint-hearted, take on the world's tallest bungee jump at Macau tower. As an adrenaline junkie, you've probably already experienced the thrill of a bungee jump, but take it to another level and try the world's highest bungee jump when you visit China. Diving off a 233m building is a total free-falling thrill as you race to the floor, slowing at about 30m to the ground. Or if you're there in summer, bungee in the dark with the amazing night bungee, for a totally unique rush.
So if you're ready to embark on your next adrenaline fuelled adventure abroad, why not explore the world's most adventurous offerings, including Australia's Great White Sharks, the volcanoes of Iceland, the white water rapids of Africa or the rollercoasters of Japan.However, you don't want your adrenaline packed adventure to finish with a wimper, by being ill abroad, suffering sickness abroad or dealing with food poisoning on holiday.

So if anything does happen to you, make sure to file holiday illness claims or holiday accident claims, as soon as you're back!