Just over a mile away from the Old Town of Sharm El Sheikh, the All Seasons Badawia is a small hotel that features a poolside cafe and buffet style restaurant serving international cuisine. Holidaymakers can visit the nearby beach to experience the variety of water sports on offer or chose to simply lounge by the hotels pool.  Although many holidaymakers have a satisfactory experience at the All Seasons Badawia it is an unfortunate fact that many visitors still report poor standards and avoidable holiday illness during and after their stay.
Sickholiday.com have dealt with 33 cases of reported food poisoning at the All Seasons Badawia.
Reports of poor food hygiene and symptoms such as vomiting, stomach cramps and blurred vision have been reported.  These symptoms are usually caused from food poisoning or coming into contact with unclean water, leading to many all-inclusive holidays being ruined and many holidaymakers left out of pocket.
Whilst staying in the All Seasons Badawia it is important to follow these guidelines to reduce the risk of food poisoning and other holiday illnesses:
Avoid foods not cooked thoroughly and/or re-heated incorrectly.
Avoid foods not prepared hygienically.
Avoid food not stored at the correct temperature
Frequently use an alcohol-based hand gel.
Avoid salads and any uncooked fruits and vegetables (these may have been handled unhygienically)
Avoid swimming in water or pools that appear dirty and untreated.
In the event that you do get ill Sickholiday advise that you seek medical attention whilst on holiday as this will greatly increase your chances of making an eligible claim upon your return.
It is your tour operators' responsibility to make sure you are provided with a safe, clean and hygienic hotel.
If you have fallen ill whilst on an all-inclusive holiday get in touch with a member of our team.  We have over 10 years industry experience and we will be happy to help you through the process of claiming back the cost of your holiday plus any additional compensation you may be owed.
WE'VE HELPED OUR CUSTOMERS CLAIM MILLIONS IN COMPENSATION
HOTEL MANAGER FINDS
GASTROENTERITIS AMUSING AT
THE ALL SEASONS BADAWIA
"DIARRHOEA, VOMITING AND BLURRED VISION…"
[ezcol_1third]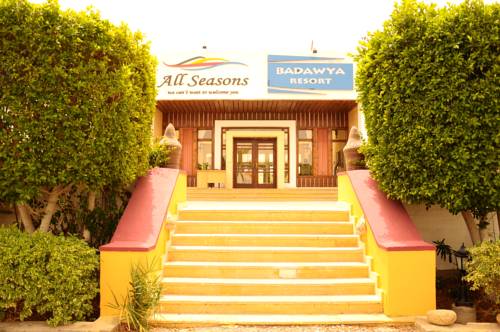 [/ezcol_1third] [ezcol_1third]Sickholiday.com successfully helped Mrs E after she was ill for 21 days after her stay at the All Seasons Badawia.  She experienced food that was under cooked, left out in the heat for long periods of time, and then served again the following day.  As a result of this,  Mrs S experienced symptoms such as stomach cramps, diarrhoea, vomiting and blurred vision. When reporting this to the hotel manager he allegedly found it amusing.[/ezcol_1third] [ezcol_1third_end]On her return home she consulted her GP who reportedly diagnosed her with gastroenteritis.  The most common cause of gastroenteritis is food poisoning (most often caused by the bacteria salmonella).  Sickholiday.com have been successful in dealing with many cases such as Mrs E, and were happy to help her claim the compensation she deserved.[/ezcol_1third_end]
£2000 COMPENSATION CLAIMED
 AFTER HOLIDAY IS RUINED BY
16 DAY ILLNESS 
"SHE WOKE UP SWEATING, WITH SEVERE STOMACH CRAMPS"
[ezcol_1third]
[/ezcol_1third] [ezcol_1third]After Miss D stayed and dinned at the Badawia for 2 weeks she witnessed dirty water dripping through the restaurant ceiling onto the food being served to guests.  The bar staff were observed cleaning the glasses with tap water and stray dogs were discovered jumping into the pool.  Just 3 days after her arrival Miss D woke up sweating with severe stomach cramps.  Miss D reported to Sickholiday.com that she had become increasingly ill, suffering from symptoms such as diarrhoea and vomiting.[/ezcol_1third] [ezcol_1third_end]These symptoms lasted a total of 16 days.  Miss D also reported that the food was almost inedible and despite not having budgeted to eat elsewhere, was forced to dine in the hotel.  Sickholiday.com have over 10 years of industry experience dealing with cases just like Miss D's, and as such we were happy to have assisted her in successfully claiming £2000 of compensation.[/ezcol_1third_end]
IMPORTANT UPDATE

All Seasons Badawia – important information
09 January 2015, 6:11
Any holidaymakers travelling to the All Seasons Badawia in the near future……..as of 08.01.15 the police have closed the hotel down.  All guests were removed from the hotel.  Anyone booked with a tour operator was moved immediately to other hotels.  Anyone who had already paid the hotel directly were not so lucky and had to pay to stay elsewhere.  Unfortunately hotels in the area were aware immediately of the therefore inflated their prices.
If you have booked this hotel please contact your tour operator as soon as possible.